NOW AVAILABLE:
FIVE DECADES OF CLASSIC ROCK
Mit Bestürzung teilen wir euch mit, dass unser guter Freund Alistair Tarwid nach langer Krankheit den harten Kampf gegen den Krebs verloren hat.
Wir werden ihn schmerzlich vermissen.
Cliff Jackson
Epitaph Live at your Home!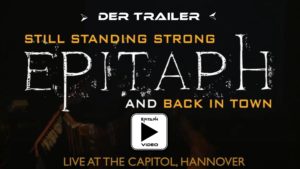 Leider sind wegen der Corona-Pandemie viele Konzerte unserer Jubiläumstour abgesagt worden. Damit Ihr nicht auf EPITAPH-Live verzichten müsst, könnt Ihr uns nach Hause holen. Wir bieten Euch den legendären Capitol-Auftritt mit zahlreichen Gästen bis zum 28. Februar 2021 zum Sonderpreis.
Hier gehts zum Shop: Live @ Home
Five Decades of Classic Rock – Tour
Tourdaten 2020
Stay tuned for updates!
Ja ich möchte den Epitaph Newsletter erhalten. Hinweise zum Datenschutz erhalten Sie hier: